Overview
In DeleteMe company administrator is able to remove or delete members from within their admin dashboard.
Removing Members
Administrators should generally use the remove members function the vast majority of the time. Removing members offboards a member from the company DeleteMe account and disassociates the member's account from future renewal events. It also allows the member to maintain ownership of their data and retain access to their account on an ongoing basis.
Step by Step
Navigate to the "Members" page in your admin dashboard
Search for and find the member in question you need to remove from your account
Click the vertical ellipses on the right side of the page next to the member's name
Click the "Edit" button
When the edit modal populates on the screen, click the "Remove" button
Input the member's personal email address in pop-up in the center of the page
Click the "Submit" button to finalize removing the member
Functionality & Best Practices
Removing a user from your DeleteMe account allows the member to retain access to their account even after they are removed.
We recommend you input the user's personal email address when offboarding the user so they can easily access their DeleteMe account after being removed.
Removing a user does not free up seats on your subscription. As a reminder, once a users receives their first DeleteMe report, they count towards the subscription through the end of the renewal period. If they are removed, they will drop off your subscription at renewal and a seat will open up to use for someone else.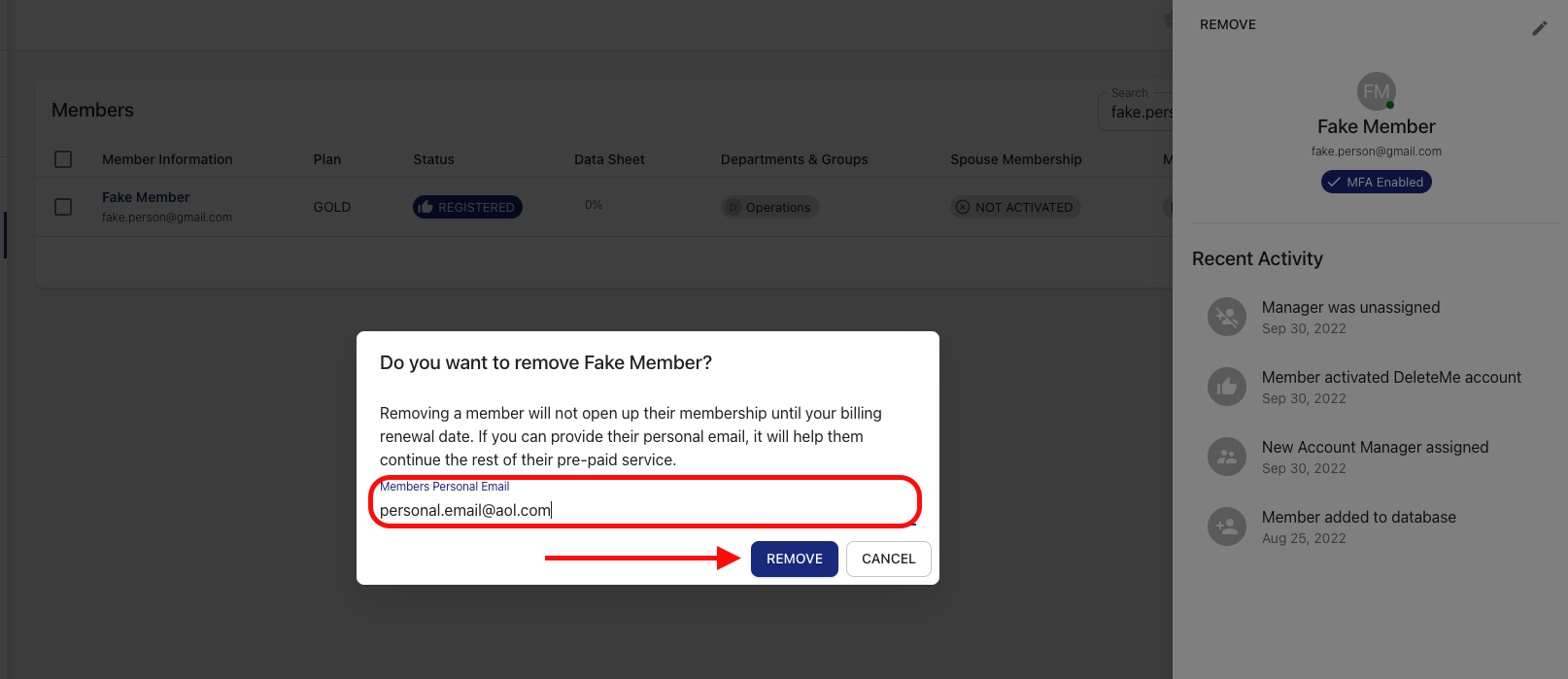 Deleting Members
Administrators are only able to DeleteMe members before the member has registered their DeleteMe account. Once a member has registered their account, the delete function will not work. If you have a member that needs to be deleted after they have registered their account, please contact the DeleteMe support team for assistance.
Step by Step
From the "Members" page in your admin dashboard
Select the member you would like to make the change for
Click the "More" button at the top of the screen
Click the "Delete Selected Inactive Members" button
Click the "Delete Members" button to finalize deleting the member